By Sabreen Ahmed, Research Associate
Editor's note: This post is based on the fifth edition of the David Gardiner and Associates (DGA) Corporate Climate Tracker, which is updated on an ongoing basis. Check back for exclusive, periodic updates. You can find the article introducing the tracker here.
DGA is beginning the new year with an update to its Corporate Climate Tracker, to reflect changes in corporate climate commitments and participation in climate initiatives.
The Tracker is designed to help stakeholders understand how businesses are—or aren't—engaging on climate, by summarizing their participation in a portfolio of major climate initiatives. Using publicly available data, the tracker captures participation in climate-related initiatives from Ceres, The Climate Group, Clean Energy Buyers Association (CEBA), Science-Based Targets Initiative, We Are Still In and the We Mean Business Coalition.
A summary of corporate participation across the six climate initiatives and 19 industry sectors can be found below: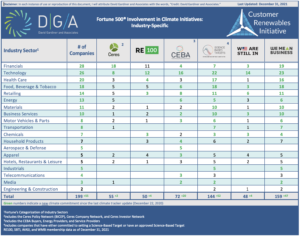 In 2021, there were several notable changes in corporate climate activity:
199 Fortune 500 companies have at least one tracked climate initiative, up from 144 companies in 2020. This is 39% of the U.S. Fortune 500. 53 companies of the total 198 companies, or 27%, are located within the Fortune 100.
Companies that joined new initiatives include Aramark, DuPont, Netflix, Home Depot, Tesla, American Family Insurance Group, Coca-Cola, ViacomCBS, and Dell Technologies.
All six initiatives saw an increase in corporate presence: Science Based Targets (52 new commitments); We Mean Business (47); CEBA (20); The Climate Group (4); We are Still In (4; and Ceres (2).
In total, this update captures 65 new commitments across the full suite of the six initiatives.
Financial, Technology, and Health Care companies lead the charge on climate initiatives in 2021. With 28 companies, the financial sector kept its position as the top-ranked sector by number of companies participating in at least one initiative; followed by the Technology and Health Care, with 26 and 20 companies respectively. Fifteen of the nineteen sectors, or nearly 18% of sectors, saw at least one new Fortune 500 company join an initiative.
Thirty-five Fortune 500 companies participate in only one initiative. The following twelve companies are participating in all six initiatives: Adobe, Coca-Cola, Dell, eBay, HP, Microsoft, Nike, Target, PepsiCo, Salesforce, Starbucks, and VF Corporation.
DGA created the tracker to provide the market a sense of the movement across corporate climate commitments. Climate change was a major news headline throughout 2021, from extreme winter weather in Texas that left 10 million without power, to forest fires in Colorado during the holiday season.
The climate provisions in the Infrastructure Investment and Jobs Act and other federal legislation from this year demonstrated that addressing the climate crisis and accelerating a clean energy transition are major priorities to policymakers, corporations, and the American people. New corporate commitments to U.N.'s "Race to Zero" campaign were also made ahead of the COP26 conference in Glasgow. It is encouraging to see that participation is increasing across these sustainability initiatives, and that trend should continue into 2022.
In future updates of the Corporate Climate Tracker, DGA will look to incorporate additional climate initiatives that fit within greater decarbonization efforts, including electric vehicle targets and energy efficiency goals.