Editor's note: This post is based on the October 2023 edition of the David Gardiner and Associates (DGA) Corporate Climate Tracker, which is updated on an ongoing basis. Check back for exclusive, periodic updates. You can find the article introducing the tracker here.
 Nearly 50% of companies in the Fortune 500 have committed to at least one major climate initiative, according to the latest edition of David Gardiner and Associates' Corporate Climate Tracker.
The Tracker, which reflects commitments and participation across nine distinct climate initiatives, documents a steady increase in major companies' climate action over the past several years, though certain sectors — like energy and aerospace — have lagged behind. Since the last edition of DGA's Tracker was published in December 2021, 49 companies have committed to at least one initiative for the first time.
The Tracker helps companies, climate advocates, and others understand how businesses are — or aren't — engaging on climate, by using publicly available data to summarize corporate participation in a portfolio of major climate-related initiatives. The initiatives included the Tracker range from general emissions reduction goals to electric vehicle commitments and pledges to tackle supply chain footprints.
DGA's Tracker uses the 2023 Fortune 500 list to track corporate participation across the following programs:
New This Year
This year, DGA has added three new initiatives to the Tracker: the EV100, the CDP Supply Chain, and the Climate Pledge. The initiative formerly known as We Are Still In has been rebranded as America is All In.
We have also changed the way participation in the We Mean Business (WMB) coalition is recorded. The WMB encompasses several different pledges, most of which are already included on the tracker. Starting this year, we only count WMB as an additional pledge if that participation is not already represented elsewhere on the tracker. This is done to prevent redundancy and double-counting initiatives that are part of WMB's coalition and listed separately on the Tracker.
Key Takeaways
 A summary of corporate participation across the nine climate initiatives and 14 industry sectors can be found below: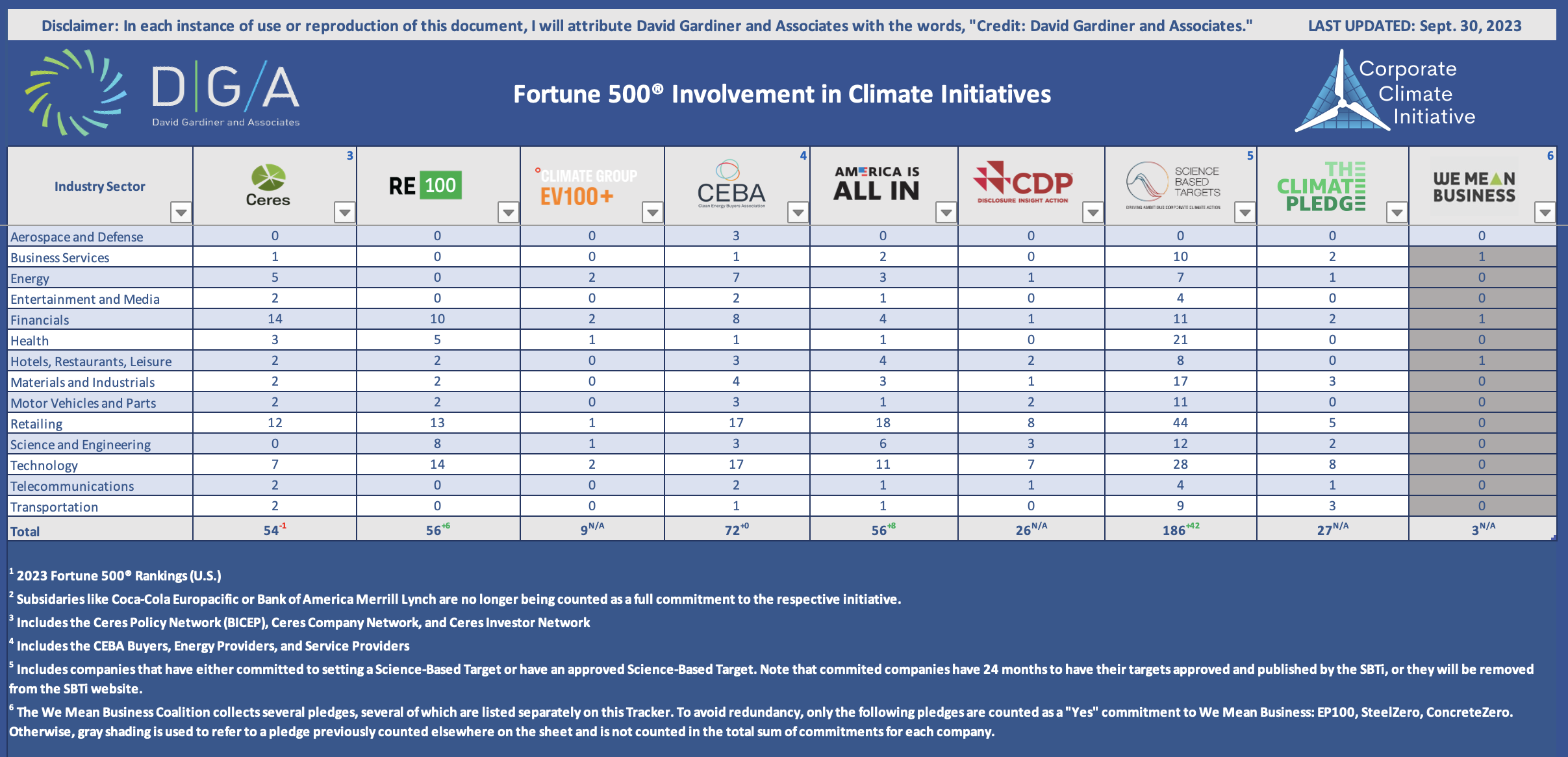 Since December 2021, there have been many noteworthy changes in corporate climate participation:
There are now 239 Fortune 500 companies participating in at least one climate initiative, an increase of 40 companies since the 2021 edition of the Tracker. This figure represents 47.8% of the U.S. Fortune 500. Sixty-seven of these companies, or 28%, are in the Fortune 100.
Since 2021, 49 companies* have committed to at least one initiative for the first time. These include UnitedHealth Group, United Parcel Service (UPS), Eli Lilly, and Goodyear Tire & Rubber.
Over the past two years, 25 companies have increased their number of commitments — based on the six initiatives that were included in the 2021 edition of the tracker. These companies include Alphabet (Google), Microsoft, Pfizer, Johnson and Johnson, PepsiCo, General Mills, Uber, and American Express.
Since December 2021, 18 companies, however, have decreased their total number of commitments. Several initiatives, such as the Science Based Target initiative (SBTi), will remove companies that are not making adequate progress on their established targets and commitments. Amazon, for example, was dropped from SBTi between 2021 and 2023.
The initiatives gaining the most traction include SBTi with 186 companies and the Clean Energy Buyers Association (CEBA) with 72 participants among the Fortune 500.Companies that have committed to greatest number of initiatives include HP (8) and Microsoft (7), with PepsiCo, Best Buy, Hewlett Packard Enterprise, Adobe, VF, and eBay all committing to six initiatives.
Some sectors have made greater strides than others on climate action. In 2023, the sectors with the most companies participating in at least one initiative Hotels, Restaurants, and Leisure (8 out of 9 companies, or 88.9%), Health (69.4%), Technology (66.7%), and Retailing (62.82%).
By percentage, the sectors with the least amount of participation in 2023 were Energy (14 out of 66 companies, or 21.21%), Financials (31.2%), and Aerospace and Defense (37.5%).
Many Fortune 500 companies have large climate footprints, which means their efforts to reduce emissions will have implications on a global scale. Seeing a general increase in the total number of commitments, as well as in the number of companies with at least one commitment, is an encouraging sign that work is being done to mitigate the effects of climate change.  While that trend should continue into 2024 and beyond, there is still work to be done to ensure that large companies are meeting their commitments and staying engaged with programs like SBTi.
DGA will continue to update its Corporate Climate Tracker, looking to incorporate additional climate initiatives that capture a commitment towards sustainability and climate action.
*Note: While 49 companies committed to a major climate initiative for the first time between 2021 and 2023, the increase in the total number of companies participating in at least one initiative is only 40. This is because some companies decreased their number of commitments and some moved off the Fortune 500 list.
Want to view the full dataset? Click below!