DGA is currently accepting applications for our fall internship program and all month, we will be showcasing the incredible work of our former DGA interns who have gone on to pursue exciting careers.
Andy Barnes
The first week, we are highlighting Andy Barnes, a former Research Assistant at David Gardiner and Associates. He worked at DGA during the summer of 2015, before completing his master's program the following semester at Indiana University's School of Public and Environmental Affairs (SPEA) where he received a Master of Environmental Science and a Master of Public Affairs. He went on to intern for the White House Council on Environmental Quality in the Office of Energy and Climate Change and then became a Policy Associate at the Business Council for Sustainable Energy (BCSE), a coalition of businesses, trade associations and foundations from the energy efficiency, renewable energy, and natural gas sectors.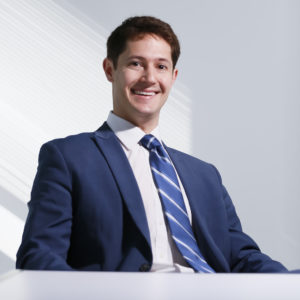 According to Andy, each of these experiences provided unique exposure into the clean energy and climate policy world that improved his understanding of the energy realm. Andy stated his time at DGA was no exception, "My internship with DGA exposed me to substantive knowledge that can only be obtained by getting hands-on professional experience. I was heavily involved in a working group created to rapidly respond to the release of the final version of the Clean Power plan that required diving 'into the weeds' of the final rule which taught me a lot about the federal rulemaking process."
Andy also highlighted the value of working on a smaller team at DGA. "My internship at DGA especially allowed me an opportunity to grow professionally because I was given meaningful ways to contribute on projects. By being a crucial and trusted part of the DGA team I not only grew during my time at DGA but also gained an incredibly supportive network of colleagues willing to go to bat for me later on because we had worked so closely together," he said.
Andy is now Program Manager for the Clean Energy Business Network (CEBN), an independent grassroots advocacy network of the BCSE, where he leads CEBN's communications outreach and provides support for overall operations. Started in 2009 by The Pew Charitable Trusts, the CEBN moved to the Business Council for Sustainable Energy in May 2017. The network serves as a resource to inform and engage clean energy business leaders in policy issues affecting their industry.
DGA is currently accepting applications for our fall internship program. Read more about applying here.
---
Virginia Hewitt
For our second profile, we are highlighting Virginia Hewitt, a former Research Assistant at David Gardiner & Associates. Virginia worked at DGA from October 2012 to May 2013 after completing her degree in Environmental Science and Policy at Duke University. She went on to work for American Council for an Energy-Efficient Economy (ACEEE) as a Research Assistant. Virginia spent two years on the local policy team at ACEEE, where she helped local governments understand and develop energy efficiency policies, contributed to a state and local energy policy database and an energy efficiency scorecard, and authored a paper on urban heat. She also authored a white paper called "Engaging Small to Mid-Size Lenders in the Market for Energy Efficiency Investment," which assessed the impact of providing capital to small and medium businesses for energy-efficient technologies.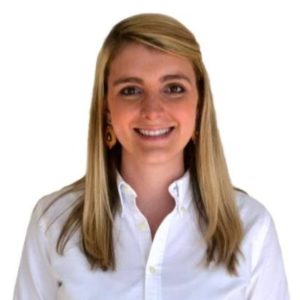 That paper helped transition Virginia into the next part of her career. She is now Director of Channel Partnerships at Sparkfund, a Washington, DC-based startup specializing in improving access to energy efficiency products and services at scale. As Director of Channel Partnerships, she does a little of everything—sales, revenue generation, go-to-market strategy, and more—with Sparkfund's network of partners and clients. Virginia describes working at an energy efficiency startup as an "incredible opportunity," and she has helped Sparkfund grow from eight employees when she was first hired to over 50 (and counting) today.
According to Virginia, working at DGA was the perfect opportunity to combine her interests of consulting, policy, energy, and environment. Her research for Chambers for Innovation and Clean Energy (CICE) while at DGA piqued her interest in local government and the ability to impact energy policy on the local level. CICE's focus on the business community, combined with Virginia' interests in business, contributed to her professional development in energy efficiency. Virginia credits DGA and the willingness and support of her coworkers in the "DGA family" as part of the reason she is where she is today. Once you join the team, "it never goes away. You're always part of the DGA family."