Retail Industry Leaders Association
"The DGA team provided invaluable guidance to RILA as we launched a successful energy management program. Since then, we have continued to rely on their skills and expertise as we have worked to distill complex issues into educational content that our members reference to improve the sustainability of their operations."

—Adam Siegel, Senior Vice President, Research, Innovation & Sustainability, Retail Industry Leaders Association
The Opportunity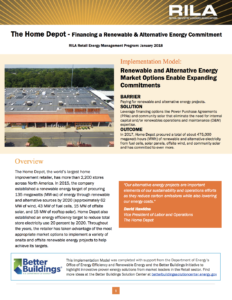 In 2014, DGA began working with the Retail Industry Leaders Association (RILA)—a trade association of the world's largest and most innovative retail companies—to create and support its Energy Management Program, which seeks to transform the retail industry by guiding retailers to energy, carbon, and cost reductions across their building portfolios. At the beginning of the partnership, DGA helped facilitate steering committee meetings, develop a successful funding strategy, and author a series of case studies. As the program has matured, DGA continues to provide research and strategy support and develops clean energy implementation case studies, such as those featuring Best Buy and the Home Depot.
RILA has continued to benefit from DGA's expertise since the launch of the program. In 2017, DGA provided strategic guidance, subject matter expertise, and support to RILA as they developed the Corporate Clean Energy Procurement Index, which is intended to assist policymakers and large clean energy buyers in advancing policies that help, not hinder, renewable energy development, and help large buyers to select states in which they may make renewable energy investments.
The DGA Difference
DGA's expertise in facilitating and managing multi-stakeholder projects, advising Fortune 500 companies on sustainability, and communicating a deep understanding of low-carbon strategies for commercial buildings contributed to the continued success of this partnership.
Please reach out if you have any questions