By Celia Lane, Climate and Clean Energy Intern, in collaboration with Lynn A. Kirshbaum, Senior Associate
Passenger electric vehicles are more affordable now than ever before. But despite the advances that led to this exciting trend, public charging infrastructure has not kept pace with the growing electric vehicle (EV) market, creating a major barrier to increased EV adoption. While the majority of EV charging takes place at home, potential new EV users who wish to charge while traveling will require public charging options to effectively use affordable EVs. Retailers are uniquely positioned to shrink the existing public charging infrastructure gap and augment their own business practices by installing EV charging stations at their store locations.
The Retail Industry Leaders Association (RILA) has partnered with the Center for Climate and Energy Solutions (C2ES), David Gardiner and Associates (DGA), and Atlas Public Policy (Atlas) to assess the market landscape as well as  challenges and opportunities for electric truck and passenger charging infrastructure adoption among retailers and their transportation partners. This work builds on previous reports that examine the market landscape and financial barriers for fleet electrification of retailers and their transportation partners.
U.S. Charging Infrastructure Over Time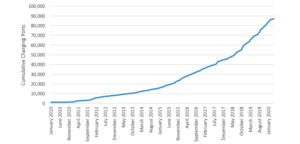 Source: Atlas Public Policy, "Public EV Charging Business Models for Retail Site Hosts," Atlas Public Policy, Washington D.C., 2020, Page 4.
As part of this joint project, Atlas released a new brief, Public EV Charging Business Models for Retail Site Hosts, which provides an overview of popular options available to charging infrastructure hosts, including retailers. Their analysis shows that by installing EV charging stations, retailers can realize benefits beyond advancing their corporate social responsibility programs, such as:
The opportunity to attract customers who come to stores to use the charging stations.
Increased in-store retail sales from customers spending more time browsing while waiting for their vehicles to charge.
Direct revenue from charging station use fee or advertising revenue.
Improved corporate branding as environmentally conscious.
Once retailers decide to become EV charging infrastructure hosts, they must choose between the two main business models – owner-operator or third-party owner-operator. This is basically a tradeoff between limiting financial risk and maximizing profit. In the owner-operator model, a retail host owns and operates their charging infrastructure and assumes the risks involved with maintenance, but has the freedom to choose which pricing structure best suits their businesses' needs. When a retail host opts for the third-party owner-operator model, they lease space to a third-party and that party is responsible for the operational costs and utility coordination, but the third party also determines the charging fee, limiting the retailer host's control.
Charging Station Business Models

Source: C2ES, "Electric Charging for Retailers," C2ES, Arlington VA, 2020, Page 7. 
The pricing structure of the fee is important, as it can be designed to optimize sales revenue by achieving longer dwell times in retail stores while still creating sufficient customer turnover. There are three main pricing structures: a profit-making fee, a nominal fee to cover operational costs, and no fee at all. Atlas's analysis demonstrated that even scenarios without a fee showed profit potential as most of the new revenue came from advertising and retail sales.
Along with their study, Atlas developed an EV Charging Financial Analysis Tool which allows potential retail hosts to customize a wide range of inputs and compare the expected profitability of EV charging stations under different business models and pricing structures. With this tool, retailers can account for the unique characteristics of their stores to determine the best path forward.
Analysis Results of Profitability for Retail Site Hosts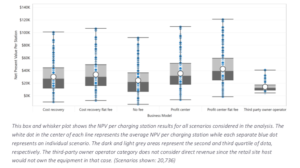 Source: Atlas Public Policy, "Public EV Charging Business Models for Retail Site Hosts," Atlas Public Policy, Washington D.C., 2020, Page 11. 
In addition to the tool and analysis conducted by Atlas, C2ES authored a brief assessing key stakeholders for retail site hosts to engage with as they design, install, and operate fleet and passenger vehicle charging infrastructure at their buildings. C2ES emphasizes that it is critical for retailers to engage utilities, charging station service providers, delivery service providers, product suppliers, and their retail customers to gain the information, experience, and technical support they need for EV charging stations to be successful.
Their findings show that early and continuous communication with utilities is the most important stakeholder communication for retail site hosts. This is partially because utilities can provide information about commercial rebates and consulting services to assist with fleet electrification and partially so that utilities can plan for any infrastructure upgrades around where charging station installations are expected.
As retailers set out to install passenger EV charging infrastructure at their sites, they will be taking steps to meet their sustainability goals while simultaneously tapping into new revenue streams. By helping to shrink the gap between passenger EV demand and public charging infrastructure, retailers can realize environmental benefits as well as positive impacts to their business.
Header Photo Source: Spector, J., "A Decade of Investments Into EV Infrastructure: Where'd the Money Go?" GreenTech Media, September 5, 2019.
Interested in learning more about our work on electric vehicles and charging infrastructure? Visit here.