By David Gardiner, President of David Gardiner and Associates
On Manufacturing Day, as we think about how decisions made today will inspire future manufacturers, two recent events suggest it's time for a new conversation about how we use renewable energy to make America's manufacturers competitive.
First, our recent report demonstrates that manufacturers are increasingly powering their operations with renewable energy. Of the 160 large manufacturing companies reviewed in this report, 40 (25 percent) have renewable energy targets, of which 18 are for 100 percent renewable energy. Companies committed to this target include Anheuser Busch InBev, GM, Johnson & Johnson, Nike and the VF Corporation. And 132 companies (83 percent) have made public commitments to reduce their greenhouse gas emissions, which many will do with renewable energy.
The energy-intensive nature of the manufacturing industry requires innovative solutions for those wanting to reach ambitious climate and clean energy goals. To meet their renewable energy and greenhouse gas targets, manufacturers are contracting for on-site and off-site renewable energy, while saving money. As GM Chairman and CEO Mary Barra says "Establishing a 100 percent renewable energy goal helps us better serve society by reducing environmental impact. This pursuit of renewable energy benefits our customers and communities through cleaner air while strengthening our business through lower and more stable energy costs."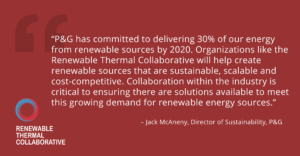 Second, two weeks ago, five leading manufacturers—Cargill, GM, Kimberly-Clark, Mars, and Procter & Gamble—announced a new initiative to help manufacturers find renewable sources for the large amounts of heating and cooling used in their production processes. Working with the Center for Climate and Energy Solutions, the World Wildlife Fund and the Renewable Energy Buyers Alliance, our firm is aiming to help these manufacturers cut their carbon emissions while also becoming more competitive.
The clean energy leadership from these companies demonstrate It's time for a new conversation in America about how we make our manufacturing sector competitive while using renewable energy. Industrial leaders, policy makers, and others should come together to make a clean 21st Century manufacturing sector a reality.