By William Sherman, intern, in collaboration with Ryan Hodum, Vice President of David Gardiner and Associates
As the Trump Administration holds 'Made in America' week, we took a look at efforts by American manufacturers to procure renewable power that is cheap, clean, and made in America. Manufacturing is an incredibly energy-intensive sector. In fact, manufacturers account for nearly one-quarter of all energy consumed in the U.S. We learned that 14 manufacturers have set an ambitious 100% renewable energy goal either through RE100 or on their own, as detailed in Power Forward 3.0. These manufacturers come from a full range of industries: food and beverage (AbInBev, Coca-Cola, Nestle, MARS, Tetra Pak), automobile (BMW, GM), consumer goods (Johnson & Johnson, Procter & Gamble, Unilever), apparel (VF Corporation), lighting (Philips), chemicals (AkzoNobel), and office furniture (Steelcase).
These manufacturers are already contracting for on-site and off-site renewable energy on their journey to achieve 100% renewable energy. The most ambitious among them are working to decarbonize both their electricity and thermal load, given the significant heating and cooling needs in the manufacturing sector. Our research finds at least 23 renewable energy projects linked to the 14 manufacturers, from small rooftop solar arrays on car ports to a 200 megawatt (MW) wind farm in Texas. In fact, Texas is leading every other state and is home to 675 MW of the 773 MW from these 23 projects (or 87 percent of the total renewable energy procured).
A major reason that Texas has successfully attracted renewable energy investment from manufacturers (and others) is that it has structured its electricity market to allow customers the ability to easily choose renewables. These 14 large manufacturers alone account for close to 400 manufacturing plants across 46 states. As shown in the map below, California, Michigan, Texas, Illinois, and Ohio are the top five states, each with more than 20 plants. Five of the top-ten states with the most facilities scored in the bottom half of a state leadership ranking concerning their renewable energy purchasing policies – Michigan (29), North Carolina (30), Missouri (32), Georgia (37), and Tennessee (44) – according to the Corporate Clean Energy Procurement Index report. To help manufacturers achieve their renewable energy goals, states should enable increased customer choice and access to renewable energy. The RILA & ITI report outlines a five-point state action plan to improve customer access and encourage the procurement of renewables from large buyers, including manufacturers.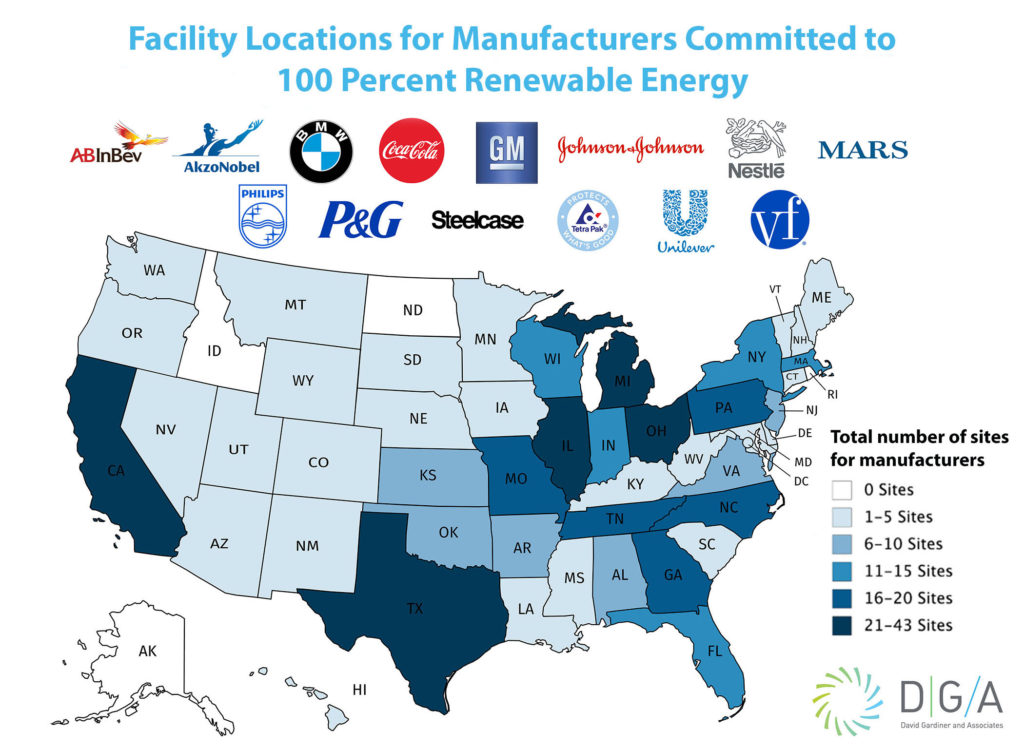 David Gardiner and Associates will soon issue a white paper (coming August 2017) to highlight corporate climate and renewable energy targets in the manufacturing sector. Our analysis reviews 106 U.S. and global manufacturers (including the 14 mentioned above) regarding their renewable energy investments, long-term public commitments, and state policy advocacy.
For more information on this topic, as well as other pertinent energy and environmental issues, please visit the DGA website – www.dgardiner.com – and follow us on twitter: @dgardinera and @CustomerREVO.